Open mouth bags' wide top ends are suited for a variety of different products with widely varying mesh sizes, bulk densities and flow characteristics and filled by Gross Weigh or Net Weigh scales. Since open mouth bags are typically constructed of kraft paper, poly woven mesh, plastic film or burlap, all of these bags require a sewing head, heat sealer or pinch bag closer after filling.
Transferring Material from the Bulk Bin to the Open Mouth Bag
Gravity scale: uses the products' bulk density and flow characteristics to fill the open mouth bag via cutoff gates that close when the bag reaches the desired weight. Free flowing granular products such as grains, fertilizer, salt and small pellets are packaged on these scales.
Vibratory feeder scale: uses side-to-side movement of the vibratory tray to transfer the product into the bag. Varying vibratory speeds move difficult materials or provide precise measurements of granular material. Materials that do not flow easily or have irregular shapes such as ground coffee and light density such as grass seed or granola usually incorporate vibration in open mouth bag fillers.
Belt feeder scale: uses adjustable product height and speed settings to accurately deliver product into the open mouth bag. These scales are suited to packaging material that tends to stick to itself during the fill process like sweet molasses-based cattle feed, mulch and topsoil.
Auger packer: uses a screw or auger to move the product into the bag. An auger packer packages powders to granular material and can be used for difficult to feed materials such as starches and flours or easily fluidized powders.
Complete your packaging system to ensure your line keeps moving.
Magnum Systems, provides a variety of packaging line accessories, from bag sealers and sewers, to conveying, flattening, check weighing, and palletizing equipment. Some people sell components, we provide complete packaging solutions from rail-to- pallet and everywhere in between.
Auger Packer – Open Mouth Bagging System with Robot Palletizing Option: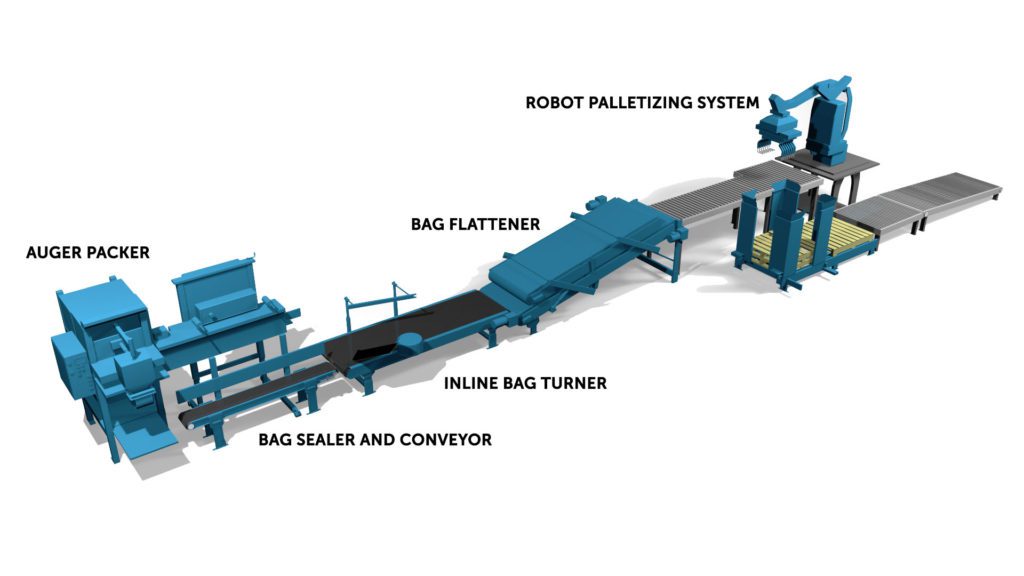 Manual or Electronic Bagging Scale System with Palletizing: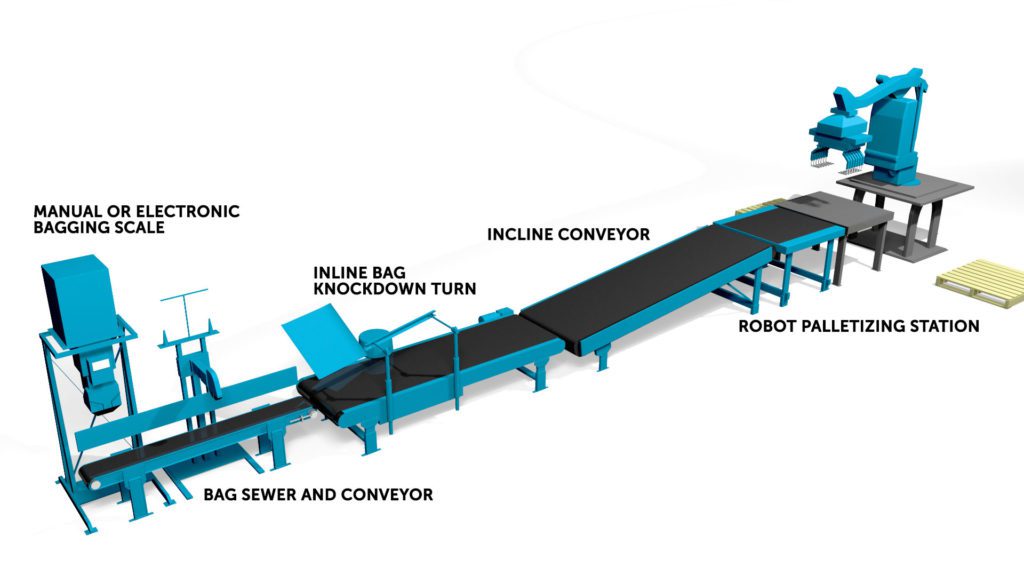 Blog Articles Related to Open Mouth Bag Packaging